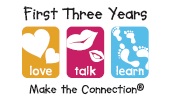 Make the Connection (MTC 1-2) is a registered program to help parents support their child's development during the second year. You will learn what it takes to build a healthy relationship with your toddler, practice ways to connect and communicate and feel more confident as a parent. The messages of MTC 1-2 are LOVE, LANGUAGE and LEARNING
This program is co-delivered with Family and Children Services.
See our current session Calendar for days and times.
 Call to register: 519 740-8353